New facility brings complete design & prototyping capabilities under one roof, speeding time to market
NEW HOPE, Minn., Sept. 20, 2022 – VitalPath, a manufacturer of custom, highly complex catheter solutions, announced today that it recently opened a new Design Center in the Minneapolis suburb of New Hope, Minn. This vertically integrated facility brings together all the resources and capabilities needed for early product development programs under one roof, ultimately accelerating time to market. The company is actively hiring and plans to add 50 engineers and technicians over the next 3 to 5 years.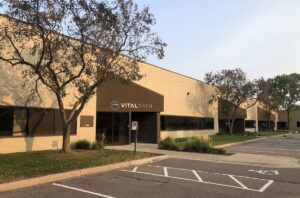 The Design Center features 28,000 square feet of space, including 4,200 square feet of cleanroom space. VitalPath is in the process of expanding its ISO certification to include design and development. The facility is designed to serve the needs of customers in the cardiovascular, electrophysiology, neurovascular, peripheral vascular and structural heart markets.
VitalPath Design Center: Fast Facts
28,000 square feet
4,200 square feet of cleanroom space
Dedicated resources for early product development
Adding 50 engineers & technicians over 3–5 years
Expanded ISO certification to include design & development
Conveniently located in New Hope, Minn.
"Our customers are looking to speed time to market by streamlining their supply chain with partners that offer broad capabilities," said VitalPath CEO Randall Sword. "We opened this Design Center to meet this customer need. In addition to adding design services, we've brought state-of-the-art capabilities from all three of our sites together in one facility. These focused resources at prototype scale will help customers get to market faster."
"In the past, customers have come to us with finalized specifications for complex catheters," said Scott Olson, VP of Engineering at VitalPath. "Now, we can add value by actually helping them develop their specifications from the earliest design stage. We have everything they need to do the job, which helps us to move more quickly and streamline early development programs."
"Our new Design Center takes our capabilities to the next level," Sword said. The facility's capabilities include dedicated cleanrooms for pilot and pre-production builds, wet labs for internal verification testing, 3D printing, tabletop injection molding, extruding, laser cutting and laser welding.
About VitalPath
VitalPath manufactures custom, highly complex catheter solutions for medical device OEMs. The company specializes in meeting customers' most challenging requirements, like single or multidirectional deflection, pushability, kink resistance and torque response. With more than 20 years of experience, VitalPath serves customers in the cardiovascular, peripheral vascular, neurovascular and structural heart markets.
VitalPath comprises the companies formerly known as Catheter & Medical Design LLC (CMD); VitalDyne Medical Inc., acquired in March 2021; and Modern Catheter Technologies, acquired in January 2022. Headquartered in the Minneapolis area, VitalPath is ISO 13485:2016 certified and has an FDA-registered facility.