Scott Olson
VP Engineering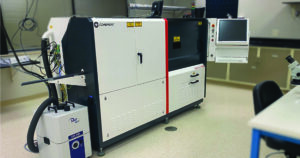 Our new Minneapolis Design Center is welcoming a new addition: a high-performance laser cutting system that will allow faster design iterations and help speed time to market.
The Coherent® StarCut Tube Laser Cutting System is a fully automated, multiaxis computer numeric controlled (CNC) machine for cutting tubes and medical devicessuch as catheter shafts, stents, hypotubes, and more. The flexible design will allow us to cut tubing or flat materials, including both metals and polymers.
Speed and performance are the key customer advantages of this new laser system. Because it's dedicated exclusively to the Design Center, we can iterate design changes more quickly, rather than breaking into production or going back and forth between different facilities. It's also extremely precise in cutting delicate materials and complex geometries, such as TAVR valve scaffolds.
This versatile hybrid machine features two lasers:
Fiber laser: ideal for cutting thicker materials & tubes, where speed is a factor
USP laser: ideal for cutting very thin or delicate components, where surface finish is important
The laser cutting system can be programmed to switch between the two for the same job; for example, starting with the fiber laser for fast cutting and finishing with the USP laser for finer details.
We've hired a very experienced laser engineer to manage the new system, which we expect to have up and running in December 2022. The system will be used for both prototypes and clinical-use units.
This new laser cutting system is just one example of the major investment we've made in our Design Center, which also includes new braiding, coiling, injection molding, reflow, and extrusion equipment. These investments will further our goal of bringing together all the resources and capabilities needed for early product development programs under one roof, ultimately accelerating time to market. This will also give us the ability to transfer products from the Design Center to production lines in our other three facilities.
For more information about our new laser system or our Design Center capabilities, contact us.